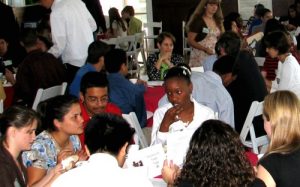 Climate Cooperators promotes awareness, empowerment and collaborative actions of enduring value through inter-generational  learning, active engagement, and guided opportunities.
Our Strategy
Open-ended inter-generational educational activities prime the pump for collaborative projects.
Collaborations build relationships, empower individuals as creative and accountable change agents, lead to innovations, and foster positive community growth.
Achievement leads to self-empowerment, a richer community, and an increasingly connected networks of relationships.
Relationships provide opportunities to develop skills, to build green, local businesses, and eventually to recognition awards augmenting the infrastructure of sustainable living.